Introduction
LearnDash is most likely the most powerful learning management system for WordPress and many customers have requested some light-weight integration between WordPress and LearnDash to support Azure AD group based auto-enrollment.
With LearnDash, content managers can create engaging courses with just a few clicks. Once a course is online, users can take that course. Whether they need to register (and pay) is up to you. But if you require users to register, then all of a sudden, WPO365 may be able to help! If you use WPO365 to enable Sign in with Microsoft for your WordPress website, then WPO365 can help you auto-enrolling students into LearnDash courses and groups.
WPO365 also provides a deep integration with Azure AD B2C and Entra External ID. If you require a modern Customer Identity Access and Management (CIAM) solution, then these Microsoft solutions will help you implement features like self-service registration, personalized sign-in experiences, and customer account management. Because these CIAM capabilities are built into Azure AD, you also benefit from platform features like enhanced security, compliance, and scalability. WPO365 will seamlessly integrate these features in WordPress.
Supported features
Azure AD based user enrollment
Dynamically enroll a new user who just successfully signed in with Microsoft onto one or more default courses and or add that user to one or more default LearnDash User Groups.
Default enrollment
Dynamically enroll a user who just successfully signed in with Microsoft onto one or more courses or add that user to one or more LearnDash User Groups based on their Azure AD group membership(s).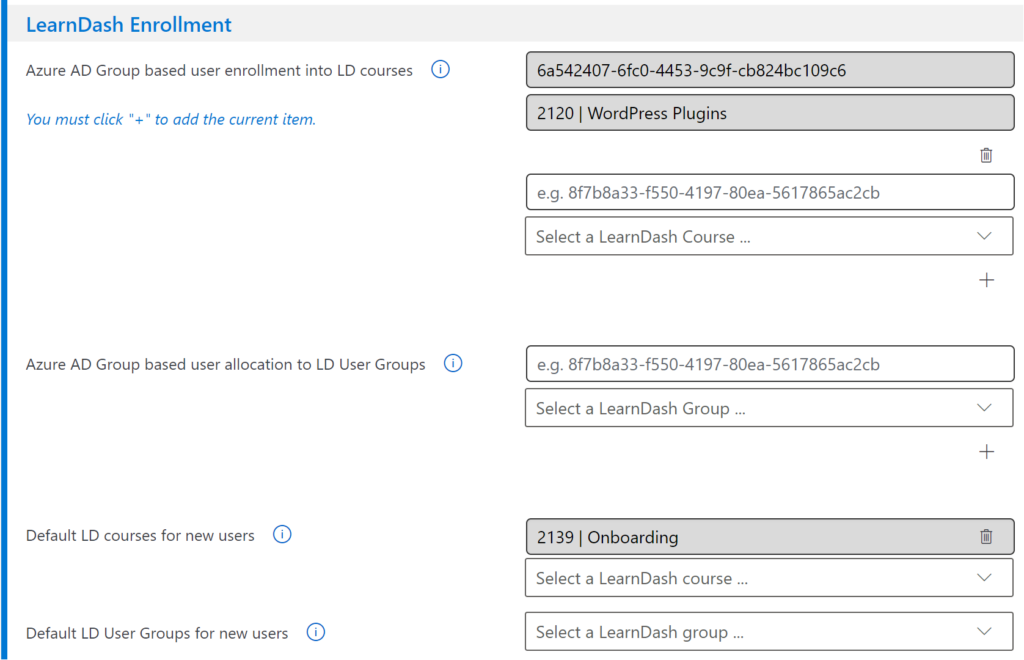 Plugins with these features
Support for LearnDash integration is unlocked by the ROLES + ACCESS addon and the SYNC and INTRANET bundles.
Documentation
Videos
There are currently no videos available.