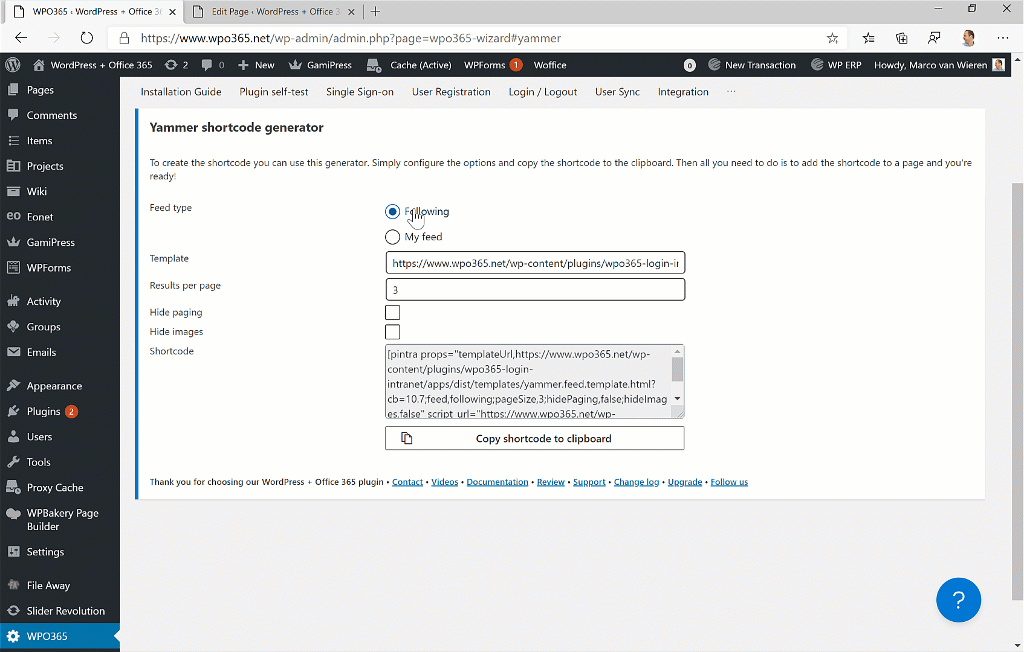 Feature description
WordPress + Microsoft (Office) 365 plugins not only help you to integrate your WordPress website with Microsoft (Office) 365 with regards to Single Sign-on / Sign in with Microsoft, User Registration and User Synchronization. They also come with a collection of turn-key apps that let you seamlessly integrate services from Microsoft (Office) 365, such as SharePoint Online, Microsoft Graph, Azure AD, Yammer and Power BI.
The Yammer for WordPress app gives companies that use WordPress as their intranet platform, a simple solution to offer employees / students / partners the ability to connect its employees with people across their organization to make better decisions, faster.
The administrator / intranet manager can choose between the following and the my feed and configure the number messages that are retrieved initially and each time when the user clicks the Load more button.
The app will retrieve the so-called starter message of each thread of the selected feed and an excerpt of its content. Replies to the starter message are not loaded. Instead, the user can click the item which will load the corresponding thread in a new browser window. The app renders messages differently, based on their type. The following types are supported:
Announcement
(System) Update
Praise (including the Praise icon)
Poll
Question
And last but not least, the out-of-the-box handlebars template can be easily customized by anyone who is able to create a beautiful internet page using just HTML and CSS.
Consult the online documentation for configuration details
https://docs.wpo365.com/article/85-yammer-for-wordpress.